Replacement aluminum Yanmar transmission dipstick cap/tube
Do you have one of these?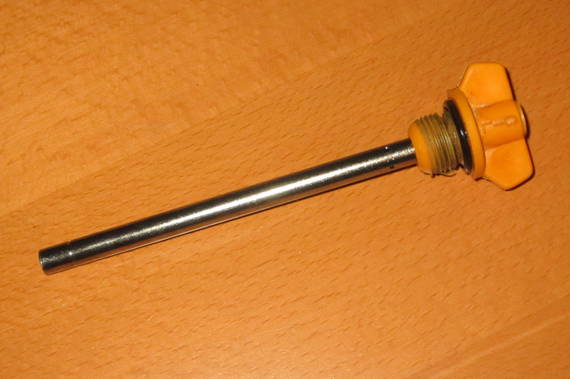 We offer hard anodized aluminum replacements
The one shown above is for a Yanmar KM35A transmission and is a direct replacement for Yanmar part 177070-62450.  
These hard annodized aluminum versions for sale both as a complete assembly or just the vented cap (YM1001-00) that can be used with any existing Yanmar transmission dipstick that has the same type of hollow dipstick tube. So you can purchase just the Cap only (YM1001-00) and take the hollow tube out of the original Yanmar plastic cap (just push the tube up into the cap and a plastic insert will pop out of the Yanmar cap to allow the tube to be removed) and put it into my aluminum cap and no more plastic cap problems.

Part number

Description

Price

YM1001-00
Dipstick Cap only to replace the plastic cap
Can be used with original Yanmar dipstick tube

$75

YM1001-01

Dipstick/tube assembly for Yanmar KM35A (replaces 177070-62450)
$85

YM1001-02

Dipstick/tube assembly for Yanmar KM2P(-1) and KM3P (replaces 177088-02451)
$85

YM1001-03

Dipstick/tube assembly for Yanmar KM5A (replaces 177074-02500)
$85